TOTeM 49 – Chemical energy carriers for long-term storage and long-distance transport of renewable energies

TOTeM 49 - Chemical energy carriers for long-term storage and long-distance transport of renewable energies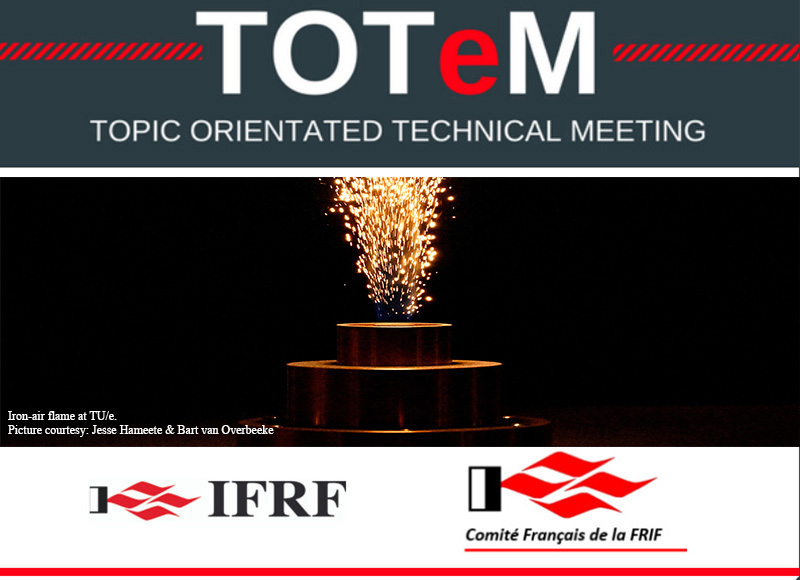 Chemical energy carriers for long-term storage and long-distance transport of renewable energies
TOTeM 49 will be a two half-day event in Mulhouse, France, on 14-15th June 2023.
The International Flame Research Foundation (IFRF) and its French Committee are organising a Topic-Oriented Technical Meeting (TOTeM) on carbon-free energy carriers for long-term storage and long-distance transport of renewable energy. The objective of this IFRF TOTeM is to address the following questions:
How can these energy carriers be used safely and efficiently in process industries using direct flames applications: power plant, gas turbines, process industry, cement, glass, steel…
What are the advantages and disadvantages of metal powder and ammonia in terms of technical and economic balance compared to hydrogen, even if they are all complementary?
What are the ecosystem, infrastructure and logistics already in place or to be developed?
Researchers, engineers, PhD students from industry and universities are encouraged to present their work in progress on any of these questions.
Please see below for all of the key details for those wishing to attend.
Venue
University of Mulhouse
18, rue des Frères Lumière, 68200 Mulhouse- GPS: 47°43'41.9736"N 7°18'31.683"E
Nearest train station: Mulhouse + transfer from train station to the venue by tram or taxi
Accommodations: Recommended to stay in Mulhouse
Programme (draft)
June 14
| | |
| --- | --- |
| 14:00 | Welcome & Introduction |
| 14:20 | Keynote lecture: Powdered metal as clean circular energy carrier of renewable energies, Jeff Berthgorson, McGill University, QC, CA |
| 15:00 | Presentations |
| 15:30 | Break & Poster session |
| 17:10 | Wrap up (future directions) Philip de Goey, TU/e, NL |
| 17:30 | End of day one |
| 18:00 | LGRE laboratory visit (optional) |
| 19:30 | Diner |
June 15
| | |
| --- | --- |
| 09:00 | Welcome day two |
| 09:20 | Keynote lecture: Status of Ammonia as energy carrier for long-term and long-distance transport, Assia Saker, Crigen/Engie, FR |
| 10:00 | Presentations |
| 10:30 | Break & Poster session |
| 12:00 | Wrap up (future directions) Christine Rousselle , Univ. Orleans PRISME, FR |
| 12:20 | Closing talk, David Honoré, CNRS CORIA, FR |
| 12:30 | Lunch (optional) |
| 14:00 | End of the event |
Instruction for authors
Researchers, engineers, PhD students from industry and universities are encouraged to present their work in progress on any of these questions.
Please submit any abstracts to Sebastien.Caillat@fivesgroup.com, using this template: IFRF-TOTeM-Author-Name-Abstract-Template
Key dates
Submission of abstracts: 28 April 2023
Authors notification: 19 May 2023
Registration deadline: 31 may 2023
Event: 14-15 June 2023
Ticket prices
| | | |
| --- | --- | --- |
| Organisation type | IFRF member | Non-IFRF member |
| Academia/students | 100 € | 200 € |
| Industry | 250 € | 350 € |
Sponsoring opportunities
IFRF is a research and networking hub of the global industrial combustion community. The IFRF network extends from the Americas through Europe to Central and East Asia, and to Australia, covering the power generation, petroleum refining, iron and steel, cement, glass, and chemical industries as well as combustion equipment manufacturers, fuels and industrial gas producers and distributors, research institutes and universities.
Space has been set aside at the workshop venue for permanent sponsor displays. Conference sponsorship will enable your organisation to:
Reach a highly focused group of industrial engineers and academics with direct involvement in the workshop
Strengthen your company image and profile at the event
Promote your company and its products through the IFRF's website, newsletter and events calendar
Company logo displayed on official sponsor boards, on the workshop flyers and programme
Exhibition space 3 m x 1 m for posters, roll-up banners, brochures including power outlets and a table for computers, brochures and small items of hardware
Listing as official sponsor on IFRF's website
An option to present your company through a short article in in our newsletter Monday Night Mail that can include a direct link to your company website
Two refreshment breaks and a long breach lunch in front of the exhibition space is planned, so participants will have lots of opportunities to exchange with sponsors
The sponsorship packages fees is 1000 €, which includes one ticket to the event.
Organizing committee
Philip de Goey (TU/e, NL)
Christine Rousselle (CNRS PRISME, FR)
Bénédicte Cuenot (Cerfacs, FR)
Toufik Boushaki (CNRS Icare, FR)
Jean-François Brilhac (LGRE, FR)
Sébastien Caillat (sebastien.caillat@fivesgroup.com, main contact ) – Fives Stein
Phuc-Danh Nguyen – ArcellorMittal
Additional Event Info
University of Mulhouse
18, rue des Frères Lumière
Mulhouse
68200