Danish researchers hoping to achieve low-cost carbon capture at Amager Bakke Waste-to-Energy Plant

Combustion Industry News Editor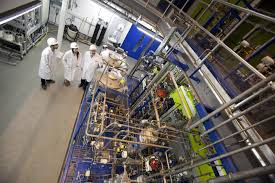 Researchers at the Technical University of Denmark have developed a pilot carbon dioxide capture facility at the Amager Bakke Waste-to-Energy Plant in Copenhagen, aiming to drive down costs for capture.

The pilot plant is designed to capture CO2 from wastewater treatment, biogas production, anaerobic digestion and waste incineration, though the researchers are also exploring means of utilisation. After flue gas is passed through an electrostatic precipitator, selective catalytic reduction and a desulphurisation scrubber, it will be passed through a monoethanolamine (MEA) solvent column to scrub the CO2. The solvent is then
desorbed in a separate column, and MEA regenerated.

The novel part of the process is that CO2 concentrations will be continuously monitored using the world's first inline CO2, humidity and methane monitor, recently developed by Vaisala in Finland. This will allow optimisation of the process, bringing efficiencies and cost savings. The researchers hope that the owners of Amager Bakke Waste-to-Energy Plant, which has a capacity to treat 560,000 tonnes of waste annually, will be able to secure finance for a CCS plant capable of capturing 500,000 tonnes of CO2 per year using the same technology.